General Property Inspection
We offer General Property Inspections for residential homes and light commercial properties starting at just $250! These inspections adhere to the Standards of Practice (SOP) as stated by the state of Illinois and ASHI and include the following accessible areas:
✓
Structural system
✓

 Exterior
✓

 Roof system
✓

 Plumbing system
✓

 Electrical system
✓

 Heating system
✓

 Air conditioning system
✓

 Interior
✓

 Insulation and ventilation
✓

 Fireplaces and solid fuel-burning appliances
✓

 Radon inspection
✓

 WDO termite inspection
Other Inspection Services
Re-Inspection
During a Re-Inspection, we will come back to a home we inspected and check that all agreed-upon repairs and changes are complete and that all parties are on the same page about the new condition of the home.
Pre-Listing Inspection
Before listing a home for sale, sellers should request a Pre-Listing Inspection. We will search for the damages and defects that may turn buyers off from your property, giving you time to repair these issues ahead of time.
New Construction Inspection
We inspect newly constructed homes before their final walkthrough is scheduled. During the inspection, we search for any oversights or mistakes that were made, giving builders time to address these issues before the final meeting.
New Construction Phase Inspections
We will inspect a new construction project at different phases throughout the process (foundation/slabs inspection, pre-drywall phase, final inspection phase). This can be helpful to buyers and builders who want to know for certain that each phase is defect-free and safe before moving on to the next phase.
11th Month Warranty Inspection
A 12-month builder's warranty protects new homeowners from having to pay for certain defects in construction after purchasing their home. By having the home inspected during the 11th month of this warranty, homeowners can be made aware of these defects and have time to request repairs.
4 Point Inspection
During a 4 Point Inspection, we focus on the home's four most significant areas rather than the entire house. This inspection is typically requested for insurance purposes. Concerned homeowners may also schedule this inspection as a regular annual checkup. The 4-point inspection covers the roof, electrical system, plumbing system, and HVAC system.
Loan Draw Inspection
Lenders will typically request a Loan Draw Inspection report before agreeing to work with a client. We will inspect your home for its current condition and required future maintenance, and you can share this information easily with your loan provider.
Home Building and Remodeling Consulting
Adam has been building custom homes and remodeling since 2001. He offers consulting services to those in the process of building their own homes. Adam can also help customers who are considering remodeling or adding onto their current home and are seeking advice. Adam can offer professional advice about your project and answer any questions you may have before you begin.
Mold Inspection
We use a Moisture Meter as needed during our inspections to help us diagnose mold issues in the home. The meter measures levels of moisture, and high moisture levels can indicate possible mold growth or mold spores in the air. Mold and other allergens can negatively impact respiratory health.
Radon Testing
Radon – a toxic, invisible, and odorless gas – can be extremely dangerous if found in high enough amounts within the home. Exposure to Radon can cause lung cancer and other serious health issues. We will measure levels of Radon in the home so that you can keep your family safe.
WDO/Termite Inspection
Termites or wood-destroying organisms can seriously damage the structure of your home. We will inspect the home for any signs of a termite infestation so that the issue can be remedied before it gets out of hand.
Thermal Imaging
We use a thermal imaging camera as needed during our inspections to diagnose issues.  This state-of-the-art camera can give us more information about heat loss, moisture intrusion, or even pest or electrical problems.
Pool and Irrigation Inspection
We'll inspect Pool and Irrigation systems to determine if all components are in good working order and offer our advice about necessary repairs.
Aerial Drone Photography
We can use an Aerial Drone to inspect a roof if we decide that we cannot access it safely on foot. The drone collects clear images of the home from above, which we can look over in order to find roof leaks or other damage.
Call Romero's Home Inspections today to schedule any of our professional and comprehensive home inspection services in the Metro East area.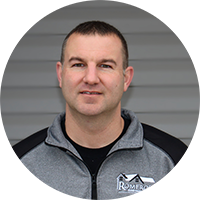 Certified Home Inspector
ADAM ROMERO
Licensed in the State of Illinois:
# 450.011861
IL Licensed Home Inspector Entity:
# 451.001193